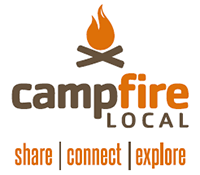 Registered users are invited to engage with one another at individual Campgrounds by simply going to the campground listing on RVpoints.com where you are and posting your status on Campfire Local.  You are invited to share your campground experiences, meet new friends where you are and earn points just for socializing on Campfire Local. On Campfire Local campground owners and managers are invited to post news of the day and events for all to see along with local businesses that support their local campground.

As a registered user you are invited to create your own profile, create a group or join a group on the RVpoints Social Network. Our goal is for travel enthusiasts and bloggers around the world to utilize the RVpoints platform to reach new audiences to share their stories and experiences of the great outdoors. Please take the time to build your profile join the community and build your very own RV friend network with RVpoints.com.


Please register today and join in the fun creating new friends and RV experiences as you travel and most of all earn points.  "Ways to Earn Points" Go to: 
 https://rvpoints.com/points
We look forward to catching up on the road, Happy Travels!