2 results - showing 1 - 2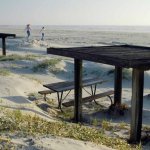 Welcome to Mustang Island State Park With more than five miles of coastline, we have plenty of room for fun in the sun. Hang out on the beach, fish in...
Location
Address
321 N on the Beach
Welcome to IB Magee Beach Park Located on the northern most point of Mustang Island in Port Aransas on the ship channel and consists of 167 acres. IB Magee Beach...
2 results - showing 1 - 2